Invoice Printing
Using Customised Invoices is the professional way to invoice your customers. We can print from your existing artwork or design an Invoice specific to your needs.
Your Invoice must include the following information by law:
> A unique identification number (Sequential Numbering)
> Your company name, address and contact information
> The company name and address of the customer you are invoicing
> A clear description of what you are charging for
> The date of the Invoice
> The amount(s) being charged
> VAT amount (if applicable)
> The total amount owed
Sole Trader Invoices must also include:
> Your name and any business name being used
> An address where any legal documents can be delivered to you if you are using a business name
Limited Company Invoices must include:
> The full company name as it appears on the certificate of incorporation
> If you decide to put names of your directors on your Invoices, you must include the names of all directors
VAT Invoices:
> If you and your customer are VAT registered then you must use a VAT Invoice, VAT Invoices display much more information than a non-VAT Invoice, details below…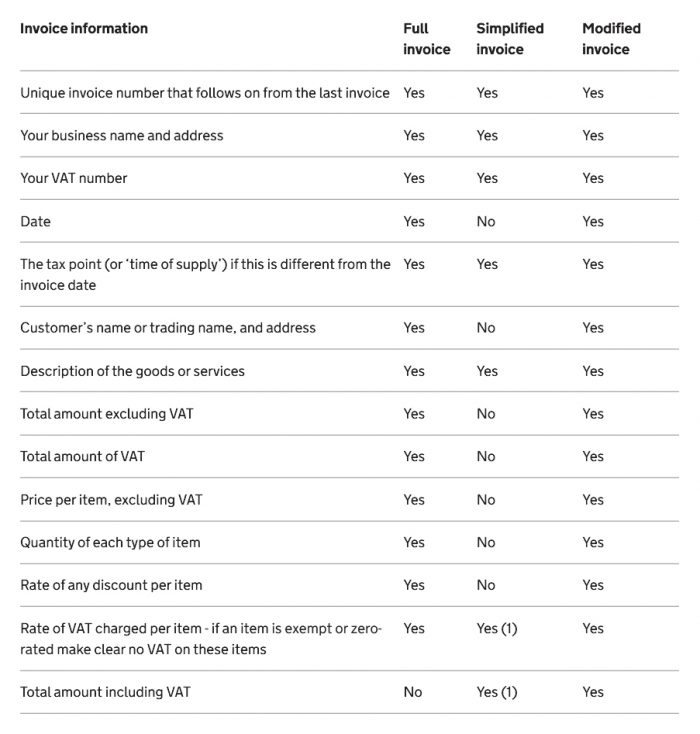 (1) If items are charged at different VAT rates, then show this for each.
Below is an example of an Invoice that we designed to the specific requirements of one of our customers, we offer both single colour or full colour printing and can supply your Invoices as Loose Sets, Pads or Books and offer 2 part, 3 part, 4 part and even 5 part sets.